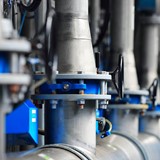 No Job Too Big or Too Small
Our Services
We have highly skilled licensed Journeyman Plumbers, Pipe fitters, & certified Pipe welders, working for us. We also have several Medical Gas certified Installers. We will work with any of the following:
Sewer
Water
Storm Drain
Gas Piping
Medical Gas Piping
Steam & Condensate piping
Heating & Chilled Water piping
Boilers
Chillers
We have hundreds of years of combined expertise in the Plumbing & Heating Industry. We are very proud of our work force. They are the foundation of our company. Their dedication to quality and safety is second to none. We have many employees that have been here from the start, and many who we hope will be here for the future.
Southeastern Idaho is a great place to live; it's a wonderful place to raise a family. There is nothing like the great outdoors of Idaho. It truly makes for a great atmosphere for us all.
Get in touch!
Give us a call, drop by, or send us an email using our contact form. Either way we'd be happy to answer any questions you might have.